Integrating Applications With OpenSSO and more at SDN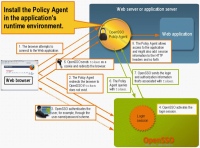 What with vacation and work on OpenSSO, I've built up quite a backlog of blogworthy news. Now that I've got a couple of hours spare, it's time to take a look at what's been happening over at Sun Developer Network's Identity pages…
The 'Securing Applications With Identity Services' series continues with part 4: 'Single Sign-On and Logout'. Prashant, Aravindan and Marina show how OpenSSO's REST-based identity services can be put to use in integrating a sample Java web application 'directly' with OpenSSO, without deploying a policy agent. This approach was used in Prashant's integration of Liferay with OpenSSO, which also works in WebSynergy. While the policy agent is a great solution for SSO-enabling existing web apps, the REST mechanism allows you to build OpenSSO support right into an app so it works 'out of the box' with no additional components.
In 'Integrating Applications With OpenSSO', Tatsuo, Aravindan and Marina cover integration with OpenSSO via policy agents, reverse proxies, the client SDK, and identity services. There's a great worked example of integrating Ruby on Rails with OpenSSO, applying OpenSSO's identity services beyond the world of Java.
As if that wasn't enough, there have been a couple more articles in the 'From the Trenches at Sun Identity' series. In her fifth interview with OpenSSO folks, Marina (does she never sleep?) talks to OpenSSO senior product manager Nick Wooler on Support for OpenSSO, explaining how customers can now buy support for OpenSSO via OpenSSO Express. Interview number six has the almost-as-ubiquitous-as-Marina Aravindan Ranganathan on Identity Services for Securing Web Applications. Can you tell that identity services are a big focus for OpenSSO right now?
Lots to catch up with there! To stay current, you can subscribe to a feed of identity management goodness from Sun Developer Network - just point your feed reader here.
Your email address will not be published. Required fields are marked *