Turkcell Deploying Mobile Strong Authentication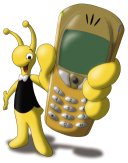 From Orhan Alkan comes this report of Turkcell deploying mobile strong authentication with Sun Java System Access Manager. Orhan and his colleagues in the Sun Turkey Professional Services team developed a custom authentication module to handle the signature validation in Access Manager.
Orhan was kind enough to give me some more detail by email: the subscriber's private key is in the SIM, so it is portable across phones. Authenticated subscribers can access all of Turkcell's web-based customer applications including billing, enabling services such as international calls and roaming and changing rate plans, and even access their accounts at banks such as Garanti, Akbank and Isbankasi.
Recalling an earlier entry on Turkcell's ID-WSF pilot - they certainly seem to be in the vanguard of mobile operators when it comes to identity.
Your email address will not be published. Required fields are marked *