Sun/Turkcell Liberty ID-WSF Proof of Concept
Great news in my inbox today: Sun and Turkcell (English-language version of Turkcell site) have published a paper on a recent proof of concept. Turkcell used Liberty's ID-WSF to implement an SMS service fulfilling three key requirements: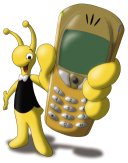 Protect subscriber privacy - subscribers' cellphone numbers (referred to as MSISDNs in the document) must not be revealed to 3rd party service providers.
Leverage subscriber location, again, while protecting subscriber privacy.
Use standards and off-the-shelf products wherever possible.
Turkcell used Sun Java System Access Manager as their identity provider, with an early access release of Sun Java System Federation Manager at the service provider. According to the document, "[Turkcell] successfully conducted a PoC project that has resulted with the accomplishment of all pre-defined requirements." Also, "We have found that the Liberty Alliance Specifications are brilliantly matching our needs and even exceeding in some ways." 
In the use case scenario, a GSM user sends a service request via SMS to a service provider to discover restaurants near the user's location. The service provider leverages the wireless operator's geo-location service, customizes content, and returns a corresponding list of restaurants back to the user.
Go read the paper and discover exactly how Sun's federation products and Liberty ID-WSF met Turkcell's requirements, and then some.
Your email address will not be published. Required fields are marked *