Sun Java System Identity Manager 7.0 Launched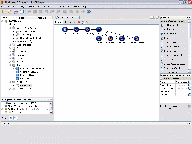 You might have already seen the news that Identity Manager 7.0 was announced last week at Digital ID World. As Mark, Bob and others have already given you the scoop on this, I'll confine myself here to covering the deltas from the last version (Identity Manager 6 2005Q4):
Integrated audit capabilities (previously provided via Identity Auditor).
High-throughput extranet provisioning capabilities (previously provided via Identity Manager Service Provider Edition).
Policy-based 'Periodic Access Review' (PAR) - 'who has access to what'.
Business Process Editor (BPE) rewritten as a NetBeans plugin.
A whole slew of tweaks, fixes and enhancements.
New Advanced Deployment training course - UPDATE - this course is not specific to Identity Manager 7.0 - it covers advanced topics relevant to IDM 5.5 and above.
So - if you've been looking for the industry leading identity provisioning, and auditing, solution look no further.
Your email address will not be published. Required fields are marked *