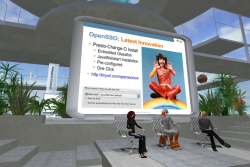 I went to the launch of OpenSSO Enterprise 8.0 (press release) this morning in Second Life, hosted by none other than the IdentiCat - Daniel Raskin, and my boss, director of engineering for OpenSSO - Jamie Nelson. It was definitely a different experience from a traditional webinar - there was audio and slides, but somehow it was more immersive, sitting in the hall with the other attendees. Some technical glitches, but, all in all, a great event.
(Confession - the image (click on it for a larger version) is a composite - when that slide was up, Daniel was off flying somewhere, and when he was sitting down, I just had a gray screen where the slide should have been).
UPDATE - if you missed the Second Life event, you can catch the replay!
Your email address will not be published. Required fields are marked *