OpenSSO - a Web Access Management Leader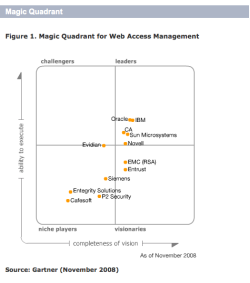 Another year, another Gartner Magic Quadrant for Web Access Management. Where 2007 saw Sun Access Manager entering the leader space, close to the leader/challenger 'cusp', this year Sun OpenSSO Enterprise is solidly in the magic leader quadrant.
As Daniel mentions, we saw great growth this last year, so it's puzzling that they list 'flat growth' as a 'caution' for us. Then again, that is the only caution, so I guess they had to find something negative.
On the positive side, they list our market leadership, full range of features, leadership in open source identity, the strength of the OpenSSO community, our innovation around the Fedlet and much, much more. Pick up the report, courtesy of Sun, and see for yourself.
Your email address will not be published. Required fields are marked *