New Sun Developer Network Goodies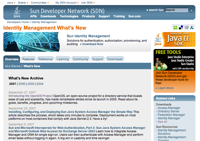 The Sun Developer Network elves have been hard at work at the cobbler's bench, publishing new articles in the identity section and creating a whole new resource center for scripty folk.
First up, Installing, Configuring, and Deploying Sun Java System Access Manager the Simple Way, by Sun engineer (and techno buff!) Anant Kadam and regular SDN tech author Marina Sum, shows how Access Manager's WAR deployment mechanism allows you to install the product on any of a variety of containers in just a few minutes. It works on Tomcat and Glassfish as well as the officially supported containers - just don't tell anyone ![](http://blogs.sun.com/images/smileys/smile.gif) .
Also, the very first article on OpenDS just hit SDN, Trey Drake and the ubiquitous Marina present an introduction to OpenDS. In case you hadn't heard, OpenDS is Sun's open source directory server project, written in Java and fully compliant with LDAP v3. Check out the article and OpenDS itself!
Finally, we have the new Scripting Resource Center - all sorts of goodies here - JavaScript, Ajax, Ruby, JavaFX, jMaki, PHP, Python, C, DTrace, and more. Set aside a couple of hours before following this link
Your email address will not be published. Required fields are marked *