My car has been in the shop for weeks now - don't ask. I can work from home most of the time, but about one day a week, I get a rental from the Hertz neighbourhood office round the corner. Hertz seem to like me. I've been renting cars from them for years, and I can't remember the last time I got what I paid for. Let me explain…
I always book a compact ("Ford Focus or similar"). With my AAA discount, it comes out at $33 a day, tax included. In the past few weeks I've had a Mustang (very disappointing), a Mazda 6 (impressive), a Hyundai Sonata (ordinary), a PT Cruiser (very ordinary) and this week, a Toyota Celica GT.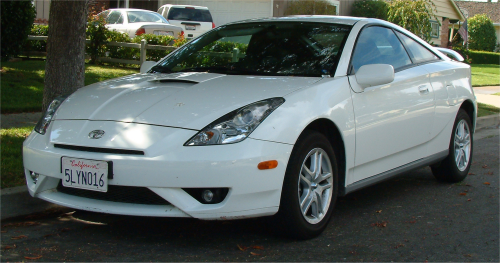 Wow - what a fun car. It's only 1.8L, 150bhp, but it weighs next to nothing. Pin-sharp steering, and it loves to rev. Just bags of fun to drive. I can only imagine what the GT-S must be like, with 30 extra bhp and a 6 speed stick shift (GT is auto).
Thank you Mr Hertz!
Your email address will not be published. Required fields are marked *