Bertram, the Googol Engine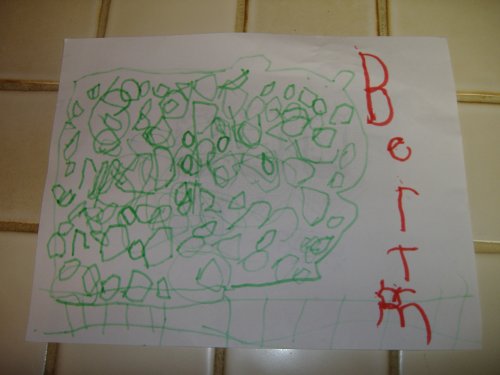 Count the zeros - it's absolutely correct!
A conversation, some weeks ago. The scene: Tom and I searching the web for pictures of bridges, using a well known search engine.
Tom: "Daddy, what's a 'Google'?"
Me: "It's a website you can use to search for things."
Tom: "Why is it called 'Google'?"
Me: "Because there are lots of things and 'googol' is a very big number."
Tom: "How big, daddy?"
Me: "Very big - if you wanted to write it you'd put a one then a hundred zeros."
Thoughtful silence.
The other day:
Mummy: "What's that you're drawing, Tom?"
Tom (painstakingly counting zeros as he writes them onto a line drawing of a locomotive): "It's Bertram. He doesn't have a number, so I'm making him the googol engine."
Your email address will not be published. Required fields are marked *